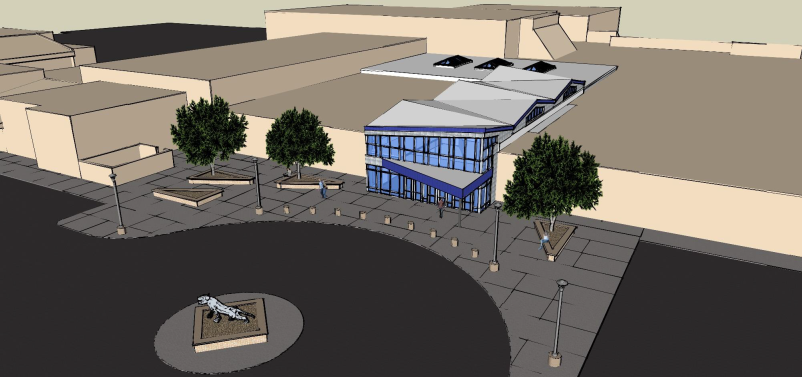 FMHS
Fruita Monument is getting a new look! Our aged and battered school-front is now up for a makeover next summer with some impressive options for covering the court yard and installing a roundabout, not to mention the new parking lot being paved next to the soccer fields!
Todd McClaskey, our school Principal, emphasized that, "The main focus of these renovations is to try to take a campus that has a lot of security challenges and make it safer for kids."
At the front of the building, starting hopefully in April 2019, there will be two sets of doors. The first will allow entry into a sort of vestibule where the Attendance office will be. Here, visitors can check in at the front office and be buzzed through the second set of doors. The double set of doors will increase security at our school, keeping our students safer. Once people make it inside, a central hallway stretches down to the climbing wall. The ultimate goal of this construction is to make our campus more secure by creating a central hallway that cuts through the middle of the school. Mrs. Widhammer's room will be moved across the courtyard, and the Admin offices will be moved next to the Fee/Finance and Attendance offices.
The hope is that by making the front offices more accessible, the school won't have as many confused parents wandering around the school at random. Rather, they'll easily be able to find the Administration office and contact the Principal or Assistant Principal. McClaskey says the Attendance office will be "front and center" as you walk in, forcing every visitor to be checked in first before entry.
The courtyard will be enclosed with newly tiled floors and interior walls that, again, better protect the students. However, though it will cease to remain an "outdoor" area, the courtyard will become an indoor atrium, complete with skylights and plants to give it an outdoorsy kind of feel. New "pods" will be set up around this area for kids to be able to study and get homework done. Each pod will have an electrical outlet to plug in a laptop or your phone, and students can use these as homework stations during the day.
Going a little further down the central hall will bring one to the predicament of our climbing wall. In order for the hallway to be successfully constructed, a large portion of the climbing wall (but hopefully not all) will unfortunately have to be removed. In its place couches and other furniture will line the edges of the corridor, giving students yet another extra place for homework and studying. "We want to modernize the area," McClaskey explains. This design is also a way of making our small high school a bit more like a college. The pods and furniture were chosen specifically for this purpose. The school store which stands kitty corner from the climbing wall is going to be completely redesigned with the classic "college store" idea in mind.
Though the prospect of "newness" is all very exciting, the fact that we're adding a total of about eighty spaces to the parking lot is perhaps even more so. A parking lot is currently being readied for pavement near one of the soccer fields with construction expecting to take place before Christmas. This new lot will add about one hundred and fifty spots to our lot, but with the new addition of a roundabout at our school's front, the total number of added spots will only turn out to be about eighty. Still, this is an improvement! The roundabout for student drop-off will be installed in front of the new doors and will feature a statue of a wildcat at its center.
If you have questions or ideas for the new renovations coming up, two of our students are on a student advisory board for the construction: Brock Yeager and Cassie Lastine. Both of them are working diligently to help create a safer environment for us…and a few other improvements!