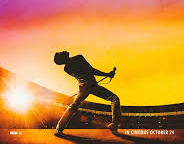 Creative Commons-Google Images
It's sad that in today's society many teenagers and high school students don't know  music from the great 80's. I walked up and down the hallways asking student if they knew bands like REO Speedwagon, Van Halen, Guns N' Roses and so many others. Two out of ten students knew all the bands , including the band known as Queen. Queen is responsible with some of the greatest rock songs like "Under Pressure", "Don't Stop Me Now", "We Will Rock You" and their crown jule "Bohemian Rhapsody". "Bohemian Rhapsody" is listed in Rolling Stones website in the top 50 songs of all time. But none of the music would have worked without Queen's lead singer, Freddie Mercury. Freddie wasn't just a great singer, but he was a legend and changed music forever. Music would be very different without Queen and Mercury. And in 2018, 20th century Fox and director Bryan Singer gave us one of the greatest films of the year  with "Bohemian Rhapsody".
"Bohemian Rhapsody" was directed by Bryan Singer who gave us such films like "X-Men", "X-2", "X-Men: Days of future Past" and so many more. "Bohemian Rhapsody" stars Rami Malek as Freddie Mercury, Ben Hardy, Mike Myers, Joseph Mazzello and Gwilym Lee, and gives us the true story of the beginning of the  legionary band "Queen" and the story of it's lead singer Freddie Mercury.
To begin with, the acting in this movie is superb! Everyone did a great job with their character and really made them come alive again. But the true star of the film is Rami Malek who stole the entire film with his breathless portrayal of Freddie Mercury. It was no easy task to play one of the greatest rock stars who has ever lived, but Malek portrayal of Mercury was electric and honestly thought Malek was Freddie reincarnated. That is the greatest component for any actor and Malek deserves the Oscar for best actor in a heartbeat!
Even though the acting is fantastic, what truly makes "Bohemian Rhapsody" a fantastic film is the camaraderie and brotherhood each band member had for each other. You get invested with each band member even though it's Freddie story, and truly care for one another.
The direction for this film is breathless, you feel like your in front row of the greatest concert of your life and hope that it never ends. The camera movement is fast and smooth which brings a feast for the eye in every scene. Singer and his team did an extremely great job placing us within the life of Queen and Mercury so that it doesn't feel like a movie, but instead feels like your eavesdropping within their real lives. "Bohemian Rhapsody" also gives  us 2018 greatest ending with the famous Live Aid concert perfectly brought back to life. And when the film ended, I honestly cried because the film reminded me why I love movies so much and did a great job portraying one of the greatest bands of all time.
Even though I really did love this movie, "Bohemian Rhapsody" isn't perfect. The film pacing is either very fast or it's slow. In the first act, the film pacing is extremely fast paced and doesn't give us anytime to take a hold of the real moment. When the 2nd act hits, the film slows down and takes awhile from the films pace to bring itself back up. Also, I wish we had more moments with the whole band rather than just Mercury story all the time. I wish we got to see Freddie through their eyes when the band is at it's lows. And lastly, this isn't a negative but I wish we got to see more creation of their beloved songs.
Is this film for everyone, no; but I encourage everyone to see this film because it deserves your highest attention. I really do hope you guys see this movie and my finial review for "Bohemian Rhapsody" is a 9/10. "Fearless lives forever!"-Freddie Mercury