A universally known and accepted fact goes as follows: dogs are and will always be cute. Throughout any season, you can find pictures of dogs doing anything from eating snow to trying to chomp down on a bubble. It is an adorable and entertaining pastime to take and post many pictures of your dog, and most of the people I know even have a separate Instagram account where they solely post pictures of their dogs (I, myself am one of these people). But even if, nothing is cuter when people dress their dogs up. Dogs in clothes are a very special event that produces nothing but pure joy. This Halloween season, I have seen many dogs in clothes in Fruita and on Social Media. Here are a few of these pictures of these doggies this holiday.
——————————————————————————————————————————————————————–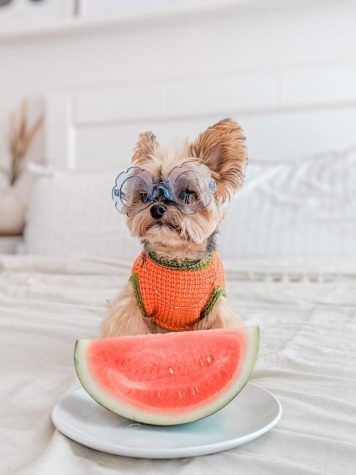 Harry Styles TikTok Dog
Popular Tik Tok star, Christine Hsu, is infamous for dressing her dog, Ducky, up as famous celebrities for her social media followers. One of her most recent liked videos is of her dressing Ducky up as Harry Styles from his music video, "Watermelon Sugar". 
Styling the flower sunglasses and a crocheted sweater, Ducky is one of the cutest dogs this Halloween season.
Photo via Creative Commons
A Spooky Sheriff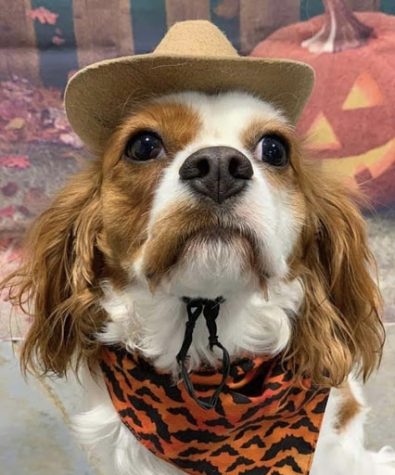 In preparation to put the rest of his cat family to jail, Benny is dressed up as a Sheriff to try to contain the troubles caused by his adopted cat family. Benny is my dog and I believe that even though Benny is the youngest animal of the household, he knows that he has to stand his ground and make sure the house is in order for us when we get home. Benny is such a cutie.
Photo by Olivia Wick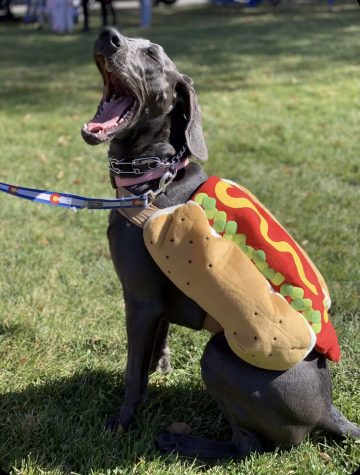 That's One Hot Dog
Greta, this adorable pup, is enjoying a crisp fall day at Chow Down's pet costume contest. To compensate for the lack of heat at 10:45 in the morning, Greta is dressed up as a hot dog, which ensures her to be anything but cold. 
Hopefully in the coming future, she will layer up a little bit on Halloween.
Photo courtesy of Chow Down Pet Supplies in Downtown Fruita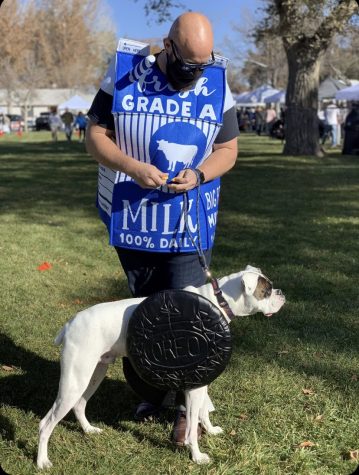 Milk and Cookies
Serve me up a glass of milk to go with these oreo cookies because this Halloween costume duo is just delightful. Also a participant in Chow Down's contest, Finnigan was one of the sweetest dogs I saw. 
Finnigan received a prize and gift card to Chow Down and will for sure be soon to have some delicious treats!
Photo courtesy of Chow Down Pet Supplies in Downtown Fruita
——————————————————————————————————————————————————————–
All these dogs remind me that maybe 2020 hasn't been all that bad, especially when you have a furry companion to get you through life.