Chaos reigned in 2020. Everything was crazier than the last, and there was no way of telling what could possibly happen next. The one and only thing that was constant in 2020 was the unwavering companionship of our pets. They stood beside us, even when they were confused by how often we were home. At first we may have disrupted their 18 hour sleep schedule, but they learned to love the extra time with us. They were always happy to accompany us on our third walk of the day. With all of the time spent at home, pets were what really made 2020 tolerable for many people. 
As we get closer to the one year anniversary of the very first shutdown, we need to make sure that we stop and appreciate what our pets have done for us. When the world felt like it was ending, they were there for us. To celebrate our furry companions, I've arranged a collection of pets from students here at Fruita Monument. As a self-proclaimed pet expert, I will be rating all of the wonderful animals featured here today.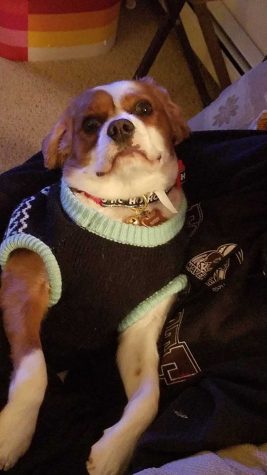 This is Buddy. He lives with Fruita senior Payton Bailey. He is two years old, and looking very handsome in his sweater. According to Payton, he "can speak fluent Swahili." This is one very good boy, and I give him extra points for his sweater. 12/10.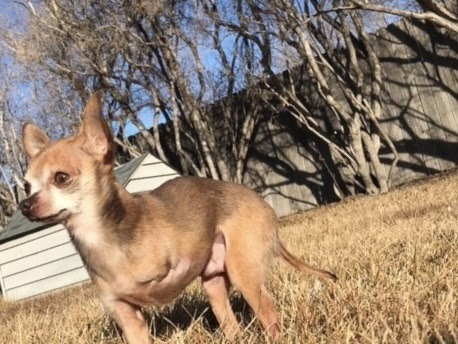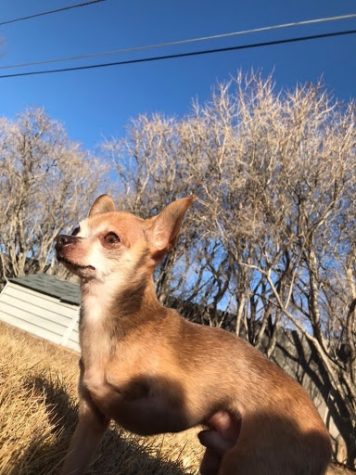 This is Franklin, and he's a tea cup Chihuahua. Although from a puppy mill, he was adopted by the family of sophomore Mabel Burris. "He lost his leg about four years ago and it couldn't heal so it had to be amputated," says Mabel. He loves cuddles and taking naps in his stuffed toy bin. Franklin can do more with three legs than most dogs can do with four, so I'm giving him a 14/10.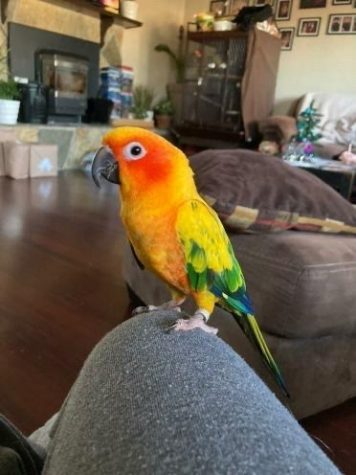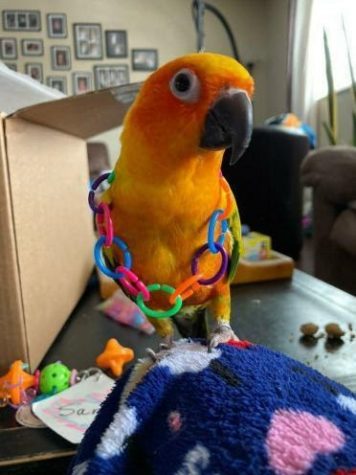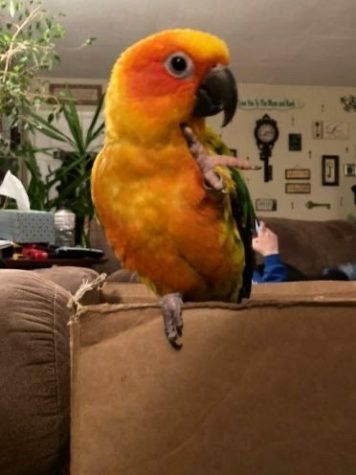 This is Mango, a Sun Conure Parrot. She belongs to the younger sister of junior Draigen Joyce. She is just about a year old. "She likes to shower and scream and hang upside down." According to DJ, she is a good guard bird and is very sweet. She loves to give kisses, and sometimes she'll dance! I am not very familiar with birds, but she seems like the best bird I've ever seen. Bonus points for the necklace. 13/10.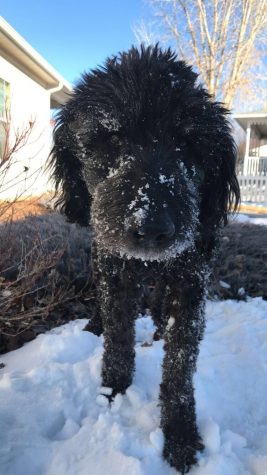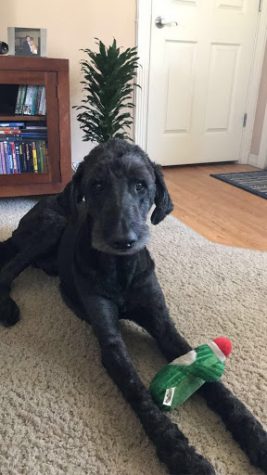 I may be a bit biased on this dog, because he's mine, but I'll try to stay as objective as I can. This is Brodey, he's a labradoodle, and he's almost thirteen. Brodey loves to sleep and rub his face in any texture he can. I'm talking gravel, snow (as pictured), woodchips, grass, literally anything. While he does get grumpy when I try to pet him sometimes, overall he's a fantastic dog and I love having him in my life. 12/10.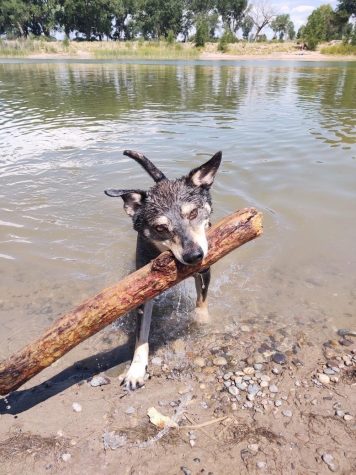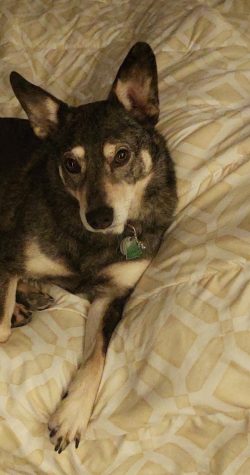 This is four year old Jack. He lives with junior Gweny Ott. This is one very handsome boy, and I am very impressed with the size of that stick he is carrying. 13/10.
I don't know about you, but I adore all of the pets that I've seen here today. I wish I could pet them all and give them as many treats as possible, but I just have to hope that their owners are already doing that. After all, they clearly deserve it. Last year was hard, and this year isn't proving to be any easier. Luckily we can always rely on our pets to be there for us when we return from a long day of school, or even just leave our bedroom from a tiring Zoom meeting. We can never take them for granted.