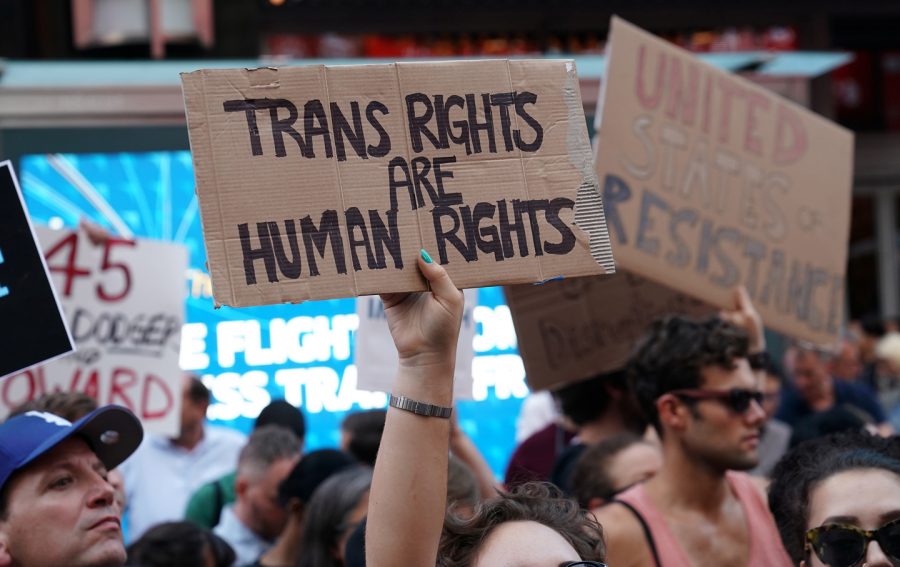 Hundreds of LGBT community members and supporters gathered together and battled against Trump's government officials as President Trump attempted to create a ban against transgenders being allowed to enlist in the military. As serious as this topic was in everyones hearts this week, the irony hit a little too close to home when people realized that the conflict was taking place over 9/11 week. Mr. Trump announced last month in a series of quite straightforward tweets that stated that transgender people would no longer be allowed to serve in the military.
The twitter messages took the world by surprise, including some of Trump's government cohorts and even the Pentagon. "I don't really feel too personally affected by this specific attack on a minority." Says FMHS junior Lilly Tierney, "but I do believe in human rights, and this has obviously crossed the line. I feel like anyone should be allowed to serve our country. To discriminate against a minority group is archaic." Trump signed the directive just one week ago precluding transgenders from serving, but didn't allow many new rules for transgenders that were already serving currently. Defense secretary Jim Mattis did not approve of Trump's new ban, and decided that he would keep the transgenders already in the military, and is now working on a case that can let him kick the president's proposed ban.
"I think that anyone should be allowed to serve in the military, I mean this is the land of freedom, after all." Senior Tal Atkins said with a slight laugh, "I mean it's a little hard to even believe that this is real life, that something so superficial is real and coming from the president of the United States." Mattis announced himself, that transgender service members would still be allowed to serve pending the results of the study, in direct disagreement to President Trump's abrupt tweets that sent out not long before Mattis began fighting back. Mattis is being provided with consults from the Pentagon and Homeland Security, and he said after the consults will he decide what to advise President Trump to do about his ban.
When asked what Trump should do with his ban, most who commented said the same thing, "He should probably not try to pass that if he wants to be taken seriously." Said senior Carlee Edwards. Not all ideas were the same, however. "I think that our military should be as strong as possible, and I'm not sure that we are focusing on the correct part of our defense that we should be. I mean, aren't we supposed to be paying attention to the actual war we take place in rather than the pronouns that a minority of our soldiers wish to be called by?" Responded Junior Morgan Daniels, when asked what she thought of the heightened tensions in the proposed ban.  Military officials have said privately that they don't see how they can turn back on their inclusion of transgenders in the military for years before, especially with their old and famous, "don't ask, don't tell" rule they keep so close to their hearts in the military. It seems as though, according to officials in the military, that as long as there is no talk about it, everyone is allowed to serve in the military in the country of life, liberty, and the pursuit of happiness.
Picture Credit: The Nation