Fall Media for the Upcoming Season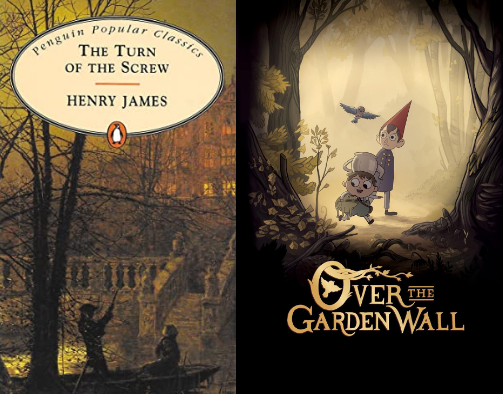 Life can be pretty dreary. Nothing but long school days, tired eyes, and restless nights suck the life right out of you (and we're not talking about vampires). However, despite the shorter days and colder weather, there's something magical about the so-called "spooky season." 
FMHS senior , Kimberly Boulden, a self-described "fall aficionado" expresses that "getting into the theme of each season helps me keep my mood up, despite life being so draining". 
So, in order to help the students of Fruita Monument High School get into the mood for the season, I have composed a list, with help from other students, like Boulden, that has the best things to entertain yourself in these upcoming weeks! So grab your fuzzy blanket, pumpkin spice latte, and cozy sweater! Things are about to get spooky!
Music
Songs can be the best way to get you into a certain mood. Think of all the times that listening to a happy song puts a smile on your face, or how a certain sad song can crush your soul with only a few notes. Of course we needed to collect some artists whose albums or entire discography exudes "fall", both comfy or even creepy!
 At the top of our list for music is The album "Punisher' by Phoebe Bridgers. This album has a sense of errieness, while also having an incredibly sincere and emotional sound. There's even a song called "Halloween"! What can get better than that? Bridges' whole theme also surrounds ghosts and skeletons, which are prevalent in her album covers and music videos. 
However, if you're looking for something a bit more "cozy fall" look no further than two of Taylors Swift's albums, "Folklore" and "Evermore," that really "hit the stop" and "feel like drinking a warm cup of tea while reading poetry under the falling leaves" says  senior Sophia Watson. Sophia also loves another band, The Lumineers', who have a similar cozy and chill vibe with gorgeous album covers whose colors remind Sophia of quiet fall nights under the chill open air. 
Movies and TV Shows
There are plenty of Halloween films to watch. With the likes of "Hocus Pocus" and pretty much any horror movie, your set. But for this list I wanted to go more into fall movies and shows that aren't the basic choices that get shoved down your throat each year. Starting with one of my favorite shows that I rewatch every October, the charming, gorgeous cartoon "Over the Garden Wall". This cartoon is short, spans only eleven ten minute episodes, but despite its length, everything about this show from the soundtrack, to the animation and character design just screams fall. It is such a comforting watch, but has a sense of eeriness that completes it. It's available to watch on Hulu and HBO Max. 
Some movies share a similar, comforting, but whimsical fall vibe, such as the Wes Anderson movie, "Fantastic Mr Fox ". Based on Roald Dahl's children's book of the same name, this movie has such beautiful colors and stop motion animation. 
If you're looking to watch something a bit more quirky, Sophia recommends watching old Disney Channel Halloween specials. They provide the festive spirit, while also giving a sense of "nice childhood nostalgia" if you grew up watching those shows. You can find all of the special episodes on Disney Plus.
Books
As much as students would much rather be on TikTok or Netflix instead of reading, hitting the books is still extremely important to the high school experience, especially if you're in an English class, and you are required to read a personal novel. If your looking to make your reading experience a bit festive, some book fall/spooky books include the likes of pretty much any Steven King novel (if you're looking for horror) or a simple modern mystery, Agatha Christie's "Halloween Party"  has good old fashioned halloween vibes with some funny tricks sprinkled in the text. 
If you're in any AP English classes, you are also required to read a book that's "AP level". These consist of mostly classics and can seem quite boring or uninteresting for many students. But this season,why not read some classics that have some halloween and fall elements. Books like "Dracula", "Frankenstein", "The Crucible", any Edgar Allen Poe and "The Turning of the Screw" are perfect advanced reads for this fall quarter. Lila Kinnick, an AP literature student here at Fruita has read both "The Tuning of the Screw" and "Dracula" and highly recommends both. "They have spooky vibes and a gorgeous sense of gothic horror which I extremely enjoy," says the AP student. 
Fall is such a fun time. It's a great way to have some (pumpkin) spice into boring school days and dreary, chilly nights. With these recommendations, it's never been easier to get into the spirit of the season!