Athletes: Players on the Field of Politics as well as Sports
Colin Kaepernick first knelt during the national anthem in 2016. Preceding Kaepernick were countless athletes using their platform to advocate for their political beliefs: tennis star Billie Jean King fighting for women's equality in the 1970s, boxer Muhammad Ali speaking against the Vietnam War in the 1960s. Kaepernick inspired modern athletes to dip a toe into activism as well: World Cup soccer player Megan Rapinoe advocating for equal pay, figure-skater Adam Rippon increasing LGBTQ representation. 
This past summer and up until today, as a national reckoning with racial inequality plays out on social media platforms and in the streets, more and more athletes are deciding to speak out. Entire NBA teams refuse to step on the court, national anthems are sung with a fist in the air. Athletes post black squares on their Instagram pages, wear jerseys and masks emblazoned with the word "justice", and host live discussions on inequality in their respective sports. 
Many people see it as athletes' duty to use their platform to speak out against injustice, while other sports fans are disappointed to see politics infiltrating what they see as an apolitical space. Athletes participating in activism is not new, but, as it has for a century, it brings up some tricky questions. Do athletes have a responsibility to help those less fortunate? Do they really have the expertise or authority to give political opinions that will impact the opinions of their fans? What about lower-tier athletes? Do they have a right to voice (or refrain from voicing) opinions as any other citizen would, or does their mid-level recognition pair with a level of responsibility?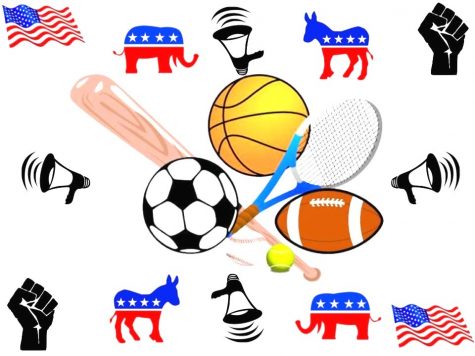 According to a recent Pew Research Center survey, a majority of Americans believe it's acceptable for professional athletes to speak out publicly about political issues, and few say it's important that the athletes they support share their political views. Opinions do vary, however, based on demographics and political affiliation. For example, people of color are more likely than their white counterparts to say it's acceptable for professional athletes to address political issues in public. Roughly 79% of black Americans say this is at least somewhat acceptable, including about 52% who say it is very acceptable. Among Hispanics, 69% say it's very or somewhat acceptable for athletes to talk about politics, while a narrower majority of white adults (56%) say the same. 
The situation is similar when it comes to age, with millennials on average 15% more likely to say it is very or somewhat acceptable for professional athletes to speak out publicly about politics than Boomers and Gen X-ers.
Regarding political parties, 80% of Democrats and Democratic-leaning independents say it is very or somewhat acceptable for professional athletes to speak out about politics, compared to a majority of Republicans and Republican-leaners (58%) saying this is not too or not at all acceptable. Most report, regardless of party identity, that this is an issue they feel strongly about.
At Fruita Monument High School, many student athletes and coaches are open to the idea of athletes' participation in political discussion.  Jeff Miller, a FMHS football coach, commented on the issue, "I do think that pro's should use their format to further discussions about current events…I think all people should advocate for issues they believe in." 
 Julia Williams, a varsity player on FMHS's girls' tennis team, has a nuanced view, stating, "I believe [athletes] shouldn't be afraid to be open about their political views, but it shouldn't affect the game. They shouldn't be afraid to stand up for their beliefs but also shouldn't mix it with their professional career."  She added, "I admire those athletes that are brave enough to be open and those who actively support what they believe, and those especially who take action on those topics, but it doesn't determine whether or not I respect them as an athlete and how I recognize their skill in their sport." 
Overall, there seems to be consensus that athletes are recognized for their physical prowess rather than their politics, and that performance in their sport should be the primary focus. Miller reports that, "It's not important to me for athletes, or anyone, to share my political views." Instead, as a general rule, people should "agree to disagree and respect one another". 
Gabriel Gallagher, a senior who has participated in FMHS athletics and who's now focusing on his golf game, responded when asked if he believes athletes should speak out about controversial topics, "I don't care. If they want to, I feel they should be able to. But I don't think they have a duty to."
When it comes down to it, athletes' freedom of speech is protected just as everyone else's is. Many pros choose to share their opinions, and many don't. Regardless, for most sports fans, politics is on the sidelines once the game begins. The fields of sport and activism are overlapping, but players are in the public eye to score goals (or points, or baskets), not to make cardboard signs. 
Kaepernick is a globally-recognized figure at this point, and his outspokenness is admirable, considering it came at the expense of a rising football career. He may have sparked debate over athletes' role in politics, but that was not his goal. Instead, he asks that we look at the substance of his argument and address the inequalities he's protesting. Maybe that's how we should approach this issue: listen to what athletes are saying and take the opportunity to explore the facts behind their opinions, before turning back to watch them destroy their opponents on the court.