A New Teacher in Town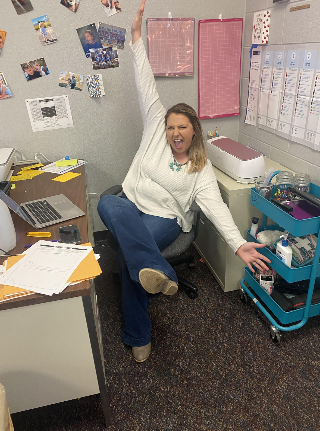 As another year rolls around at Fruita Monument, there's new faces at the school. In addition, there's a new teacher at FMHS, Taylor Briscoe. She teaches history, she's quick-witted, and she's gleeful. 
Briscoe was born in the small town of Fort Lupton, Colorado. In high school, she was involved in a lot of school sports  like softball, swimming and track. She also participated in clubs like Student Council, FCA, FBLA and DECA   and took many AP courses.
Briscoe following high school, She went to Aims Community College first where she got her Associates Degree, then went to the University of Northern Colorado for her Bachelors, and recently attended Western Governors University online where she got her Masters.
She taught at Rifle High School, Central High school and now she's here at Fruita.
Briscoe teaches US history and AP US history. She has a love and passion for history and she shares that with her students each and every day. Junior Addison Cox states that, "She connects with us on a personal level and really gets to know us genuinely." 
Outside of school, Briscoe said her hobbies are  "Photography, cooking, baking, sewing, crocheting, hiking, and camping." 
Briscoe loves to learn and she's always trying out new things. During student work time, she sits at her desk and makes crafty little projects with her Cricut. She is always encouraging students to have her craft them something. Most of the decor in her classroom she has made herself. 
Briscoe shows her passion for this school by attending school events with her two kids and husband. She has a bubbly personality and makes each and every kid feel like they belong in her classroom. 
Here at Fruita we are grateful to have a new teacher. Fruita will benefit from the influences she will have on us. Be sure to stop by Room 120 and welcome her to our school!