Healthy Off Campus Food Options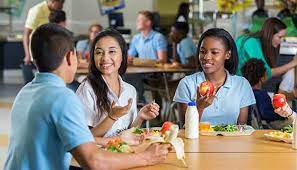 Everyday, the bell releases Fruita Monument's High School students, and they swarm to the parking lots to go meet up with their friends for lunch. Though sometimes it's hard to find places around campus that aren't fast food, they are there. Healthier options can be hard to come by, and if you do find some, it can be hard to eat that food in the short time we have for lunch. Here are some healthy fast off campus food options here in Fruita.
Jimmy Johns while not being completely healthy is one of the better options in the area. Jimmy Johns allows you to customize sandwiches to make it as healthy as you want it. They also have a number of healthy options including their veggie subs and their wraps. You can find Jimmy on Johns 532 Raptor Rd Suite C, Fruita, CO 81521.
If you are looking for a more sweet and fruity meal, then you should stop by the Mountain Berry Bowl truck. They offer a variety of acai bowls that are not only healthy but are also dairy and gluten free. If you order them without honey and bee pollen, then they are also vegan. Senior Josiah Hanly said "It's good for you and has a variety of options and is really filling". They are a great option for people who are looking for healthy options or face certain dietary limitations. They are great on a hot day so make sure to stop by, but hurry they will be closing sometime in November. You can find the truck parked at 111 N Park Square.
Qdoba may not be completely healthy, but they do have a lot of healthy options. You can customize a bowl to make it as healthy as you want. They provide a lot of healthy ingredients as well as protein bowls. They also offer a variety of vegetables and proteins and pre-made bowls. They offer low-calorie, low-carb, vegan, vegetarian, keto and gluten free options. You can find the Qdoba on 401 Jurassic Ave in Fruita.
Einstein's Bagel, while not being totally healthy, does offer many healthy options. Some of these options include the southwest egg white sandwich, the hummus veggie sandwich on whole wheat bread, whole wheat with avocado spread, and harvest chicken salad on honey whole wheat bagel. You can also customize your own, and the best way to make any of your bagels better is to get a thin sliced bagel that is whole wheat. You can find Einsteins at 401 Jurassic Ave Unit 1 in Fruita.
As you can see, Fruita has many places to eat besides fast food. There are many places where you can choose from a variety of healthy options or you can make your own. Next time you go to lunch, select a healthy option to fuel your brain and help you stay focused during school.