Fentynal in High School Students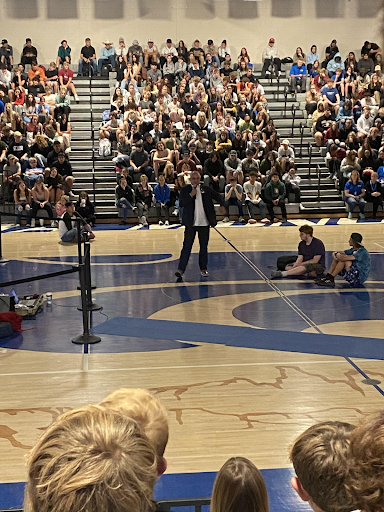 America has had a drug crisis for a long time, especially in the small town we live in that's so close to the border and has high risks for drug exchanges. That problem has arrived in our hometown with the rapid expansion of fentanyl. This nasty drug is becoming more accessible for kids and high school students in particular.
Fentanyl, like many deadly opioids, was created as a strong pain reliever for patients who have cancer or other diseases that cause severe pain. It is also a highly addictive and deadly drug- a small amount can lead to crippling addiction or death.. "Fentanyl is a synthetic opioid that is 50-100 times stronger than morphine." States DEA.GOV.
Pharmaceutical fentanyl is dispensed to patients with cancer or after surgeries that result in substantial painThe drug is harder to get into possession when it is managed and rationed out by a pharmacist . But illicitly manufactured fentanyl is available on the drug markets and is sold in liquid and powders. This fentanyl is made in foreign countries and smuggled into the US. Therefore, fentanyl has become cheaper and more accessible for the public.
Fetynal kills hundreds everyday, and thousands every year. The cdc states that each day 150 people are killed from fentanyl abuse. According to the New York Times, close to 71,000 people die each year from overdosing on fentanyl.
Fruita Monument High School recently welcomed guest speakers who spoke about fentanyl's dangers and told the stories of kids killed by the drug. Many students were either experimenting with drugs or seeking pain relief, but instead took illicit pills that were laced with fentanyl and died as a result.
DEA. GOV states that "42% of pills (street drugs) tested for fentanyl contained at least 2 mg of fentanyl, considered a potentially lethal dose.
Drug dealers mix drugs together and make them look like prescription opioids. Not only is fentanyl often in these pills, but other opioid drugs like heroin, methamphetamine, cocaine and more, can be included creating an even more lethal pill.
The Grand Junction police department has discovered a new " rainbow fentanyl' that attracts kids because of its similarity to candy.
KKCO 11 states that "Colloquially referred to as "blues" and "rainbows," approximately 60,000 fentanyl pills have been seized on the Western Slope in just the past two weeks, according to authorities."
This new form is a way for drug cartels to target younger kids. There have been incidents where kids have found a pill on the sidewalk and took it not knowing what it was and overdosed. There have been 12 deaths in the valley due to fentanyl overdoses this year.
There have been countless innocent teens and adults who have died from this awful drug. Many of them may have not known what was in the drug they were taking, and it cost them their life. When partying, experimenting or seeking pain relievers, be knowledgeable and know the potential consequences.