Is Halloween Candy Really Dangerous?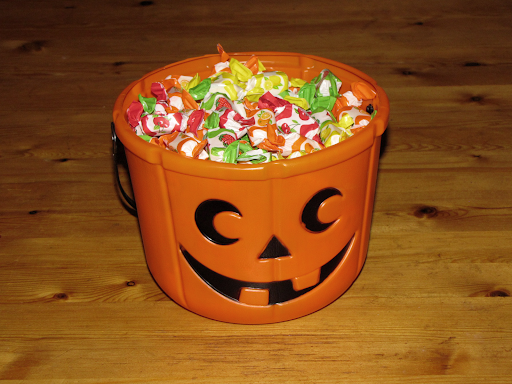 Many of us have grown up hearing horror stories about opening up our bags of halloween candy after trick or treating. We are reminded of poison and razor blades, but are these stories reliable? We are also reminded not to eat homemade treats, not to mess with pieces that have messed up wrappers, and to not consume anything that has not been individually packaged. But are these concerns valid? And how often do these occurrences truly happen?
A CNN article titled ¨Two people in Ohio found razor blades in their Halloween candy, police say¨. This is a small scale crime when you consider the amount of children who trick or treat each year, yet halloween sadism, as it is called, has been a big fear for American families. But is sometimes argued to be a myth or near non-existent.This article states "The blades were hidden inside the wrappers of two candy bars." This may not be as relevant of a fear as other things that can happen on Halloween, however it is a good idea to remain cautious. Many people say that it helps to check inside the candy wrappers and also make sure the candy is fully intact , not damaged, and individually wrapped before you or your child consumes it. In other parts of the United States, the evil candyman rumor prevails.
Another article done by the CNN health department states that "Newsweek magazine asserted in a 1975 article that 'over the past several years, several children have died and hundreds have narrowly escaped injury from razor blades, sewing needles, and shards of glass put into their goodies by adults.'" So, this is a rare occurrence by and large, but that does not necessarily mean it doesn't happen or that the risk has disappeared.
Though some evidence is here, they are very rare and seldom stories, many people argue that these are simply just tales used by parents to instill caution within their children on a dangerous night and make sure they are safe. The argument held by many people is about how most states or regions haven't experienced this in years . To be sure, one occurance is a big deal, but the majority of the time the trick or treating tradition is wholesome and respected by the adults playing along. Many churches, youth groups, and teams have introduced the phenomena of ¨trunk or treat¨ where children go car to car getting candy in order to avoid strangers' houses. Most of the time, the millions of pieces of candy handed out and peoples houses visited have good intent and go strictly to plan, but occasionally that one needle in a haystack house will arise and that will be spoken of to an extreme degree.So, to combat this we need to emphasize to children that they need to be safe and careful when it comes to trick or treating or anything involving Halloween in general. Some Malevolent natured occurrences happen on this holiday, and it is the perfect opportunity for people to commit crimes and do unjust things. It is quite unfortunate that these stories do in fact occur in the world we live in today. To combat them, we need to ensure that children are informed and made aware of the possibility.