My Medical Mission To Gutamala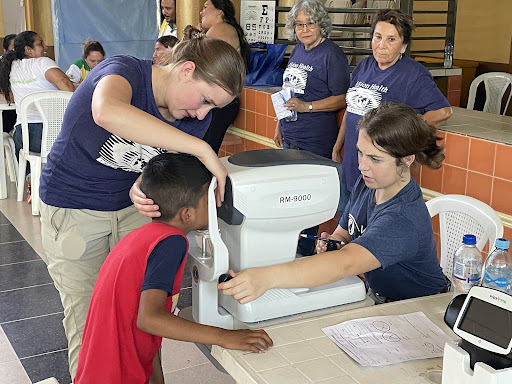 This isn't a story about me. It's not a story I'm writing to make myself look good or sound preachy. After all, going on this two-week trip with Vision Health Internations, to a small rough village in the middle of Guatemala, was not my choice. But going on this trip allowed me to see a setting and meet truly beautiful people, and in the organization's words, "Bring high-quality eye care to underserved communities around the world." This was an experience that was truly life-changing as I got the experience places, people, and stories I'd never thought I would see, and better yet, get to actually make a difference.
This was a medical mission all about helping people see. My dad, who has participated with Vision Health International on many other mission trips across the globe, joined me on this journey and helped with the anesthesia for the actual eye surgeries that VHI provides in the small hospital a few hours away, while I spent my days in the field giving exams and recording data. Volunteers skilled in glasses construction would then make the correct pairs and numbers. People would travel hours across the country just to finally see clearly. I remember meeting a twenty-year-old girl who traveled over five hours just to get a prescription to fix her strabismus (crossed eyes), which is a misalignment of the eyes. With my less-than-proficient Spanish, I still was able to pick out the fact that she would finally be able to find someone to spend a life with, as her eye made her look "fea" (ugly) and getting a pair of glasses to align her eyes was never an option for purchase with the bit of money her family had.
Even small children were standing in line to get an exam. They and their parents would come all the way to the little booth wearing their nicest clothes just to have the chance to see better. It's bad enough that most kids in the area don't get a proper education, but that around 650,000 of people in Guatemala have trouble with their vision, with a big chunk of them being children, according to the SEVA, an organization for eye clinics strictly set up in Guatemala. The worst part is that those children have difficulty understanding and can't learn what little knowledge they get, as quality education is rare and expensive in their area. Over 150 people came per day over the two weeks, and those who needed it got the prescription assigned and glasses perfected and fitted. It was incredible to see people of all ages react to their new clear sight and a new opportunity to fix their eyes.
The people who I and the rest of the Vision Health team helped, were so amazing to "see," but there were even more things that reached beyond the small, modest hospital and little examining booth in the town center. At the little shop next to the emergency room, a young girl no older than eight came running to get my order, with two kittens propped on her back like monkeys. It was hard to pick up a conversation, but one of the volunteer translators was able to explain to me that all she wanted to do was move to America and become a big Hollywood star. She mentioned how she would love to have her cats be a part of her acting. She rambled on about all the amazing things she would see and do when she reached her dreams. It was a bittersweet moment. Like most people, her dreams seemed to me impossible, but seeing it through the eyes of a child, especially a child at an even more disadvantage than most, filled me with a mix of emotions, ranging from sorrow to hope.
This whole trip for that matter filled me with a range of emotions. It was amazing to experience a whole new place, and help so many, but it was also humbling. It sounds cliche but I really don't know how to express my emotions any other way. It was truly an unforgettable experience, with even more unforgettable people that I'm glad I get to share and talk about "Vision Health International", a wonderful organization that has been serving underprivileged communities with vision care since 1985.