Retail Workers VS Plastic Bags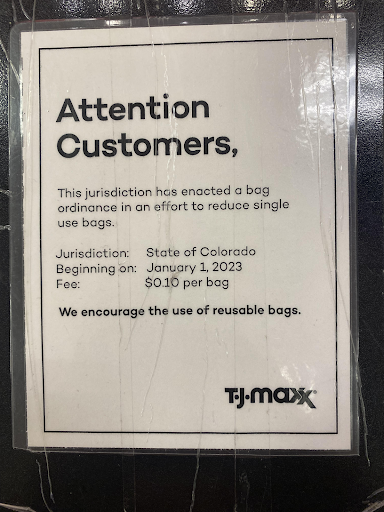 Retail is one of those jobs that can be very fun and relaxing but simultaneously so stressful it makes you want to quit. In my own experience I have enjoyed most every second at TJ Maxx, even dealing with grumpy customers. But that all changed when I walked into work January 1st, 2023.
The plastic bags we all used to use are now 10 cents a bag, it's an effort to reduce the plastic being put into the environment. The idea is great in theory but citizens of Colorado have become misinformed of what state legislation is happening and it makes my job just that much harder.
If my customers are to be believed, it is my decision to charge for bags and also my fault that our reusable bags are sold out. I completely understand frustration over bags, but I also know that it is not a company's choice to charge; it is the law which in fact is even posted under each register in T.J Maxx.
I am constantly asked "When did you start charging for bags?" and each time I reply, " The whole state of Colorado has to charge for bags." I have probably had to state this over a million times this month. Customers also inevitably ask "Where are all of your reusable bags?" and I simply reply "Each time we get some they get sold out."
Personally, I don't mind answering questions about the bags, but I do mind the way I've been treated by customers. As an employee we have to treat customers with the utmost respect, but customers never seem to do the same, and constantly blame us for the bag fee. It's like the tides turned and now the employees are at fault. Not every customer acts like this, but a large majority of them do. Most of them ask all their questions about the bags, roll their eyes when they hear that we have no reusable bags, then get irritated when I ask if they have a plastic bag.
The one that hurt me the most though was when a customer wanted 10 bags, so the total was 1 dollar, and I counted 10 bags out. The customer then interrogated me and said " Did you even bother to count my bags?". Of course I counted out 10 bags. When did bags become such an issue that people have to yell at cashiers? Instead of accusing cashiers, practice kindness and patience, because cashiers are simply doing their jobs. For example, we have to ask if customers need a bag, it's not because we want to make you spend 10 cents, it's because we want to make sure that customers can carry all of their items or if they need a bag.
Other TJ Maxx associates have experienced similar reactions from customers, one being accused of where the bag fee goes.
The bag fee is an effort to help reduce plastic being reduced into the air and eventually to completely eliminate plastic. According to Fox 31 News the 10 cent fee "That 60% portion of the fee revenue can be used by the municipality or county to pay for administrative and enforcement costs and any recycling, composting, or other waste diversion programs or related outreach or education activities.The other 40% of the fee revenue will be kept by the store."
Plastic bags and retail workers have a never ending feud with plastic bags that unfortunately just got worse. Overall customers should learn to set aside the anger towards the bag and open their minds to cashiers. The bag fee may never go away, but retail workers are here to stay and don't deserve to be abused over a ten cent plastic bag fee.