Overrated TV/ movies of 2022-2023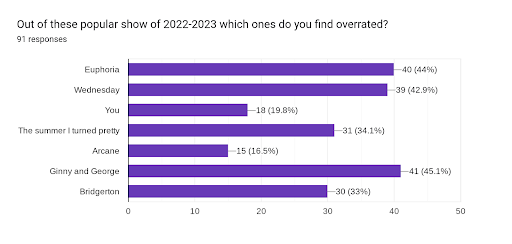 Media is everywhere in our world. Our entertainment is based upon the mass media's ability to produce entertaining shows,movies and content. In 2022 through the start of the new year, the media produced many different shows and movies with a variety of different genres and plots, some of which people find to be greatly overrated.
As the word, "overrated," is said, can you imagine that one show or movie that you just do not understand the hype about? That is the question that Fruita Monument High School students were asked. Here are what students feel are some of the most overhyped tv shows of 2022-2023.
Over 90 students answered the following question on a survey: What movies/shows of 2022 would you say were "Overrated." And then they were asked to explain why. The top three choices for the most overhyped TV series of 2022-2023 were Euphoria, Ginny and George and Wednesday. These shows are featured as some of the most viewed of the year. Social media also captures a mix of these shows in reviews, edits and more. They were not missed. Though students find them to be "Over discussed," or hyped. "The acting is pretty bad and it is extremely cringy" being one of the most repeated comments of the responses.
(View chart)
Euphoria is the highest ranked. 44 % of students believe that Euphoria was overhyped, explaining how they found this show to be a mix of "bad plot," and "drug use." As the show follows the main protagonist, 17-year-old Rue, most students hypothetically should be able to relate to this teenager, however, the plot being her addiction to drugs, her father's death and the active lives of the other characters, Euphoria is not the "Most," relatable compared to most students experiences.
One response stated," It's whole plot is drugs and depression. It was so hard to follow." Though the students here at FMHS do not find this show quite pleasing, Rotten Tomato (A movie/show review column that is viewed by over a million people.) Gave it a 88% (100% being the highest.) rating- meaning that most of the critics found the show overall .
Another student responded to a few shows, stating," Euphoria romanticized things it shouldn't, Wednesday just wasn't as entertaining as it was made out to be, the same goes for Stranger Things."
The attitudes that fellow students have over these shows make the question linger about whether the media's portrayal of teenagers is true or not.
With most of television is a projection of reality, as "reality tv." The concepts that are now being used in that portrayal of teenage life can be quite questionable. Drugs, sex, suicide and so on are topics even discussed in schools… but can be used in tv as what some students say "Influence." One response stated, "These shows just influence and promote people to do stupid things and hurt themselves."
Is there a difference between discussing important topics and promoting them? The thought can be questioned as you watch shows like Euphoria, according to these students.
The next two highest-ranked shows include Ginny and George (The newest season came out in 2023) and Wednesday. While Wednesday is a spin-off of the beloved Adams Family, it follows the plot of the eldest sibling, Wednesday Adams. This show was ranked 71% by Rotten Tomato- a lower ranking than euphoria, but a higher score than Ginny and George. Ginny and George follow a teenager named Ginny who goes through high school with her experiences of ups and downs, though the plot also follows her mother, George, and her experiences as a teenage mother.
Both of these shows were expressed by the responses as "cringe," and "unrelatable." One response stated, "These shows are like a bad portrayal of what people think high school is like." While another response stated, towards Euphoria and Wednesday"Everyone starts to act like the characters when a new season comes out and the show just isn't that good."
Though the media's portrayal of all things teenage may not be the most accurate- Euphoria, Ginny and George and Wednesday had some of the highest watches in 2022-2023 due to the hype of each, either for the good plot or the overall "Cringe," these shows are what students consider to be the most overly talked about media of the last year… and lead to thoughts and questions towards the mass media and its effect on who we are and how we are seen.