Sweet And Simple Cupcakery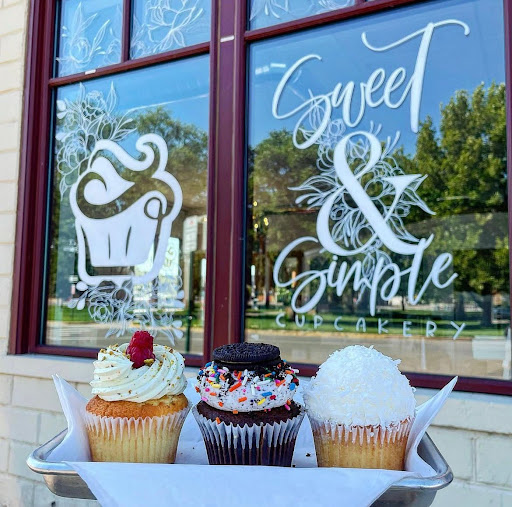 Across from Circle Park, there is a new cupcake shop in town! Sweet and Simple Cupcakery. Known as Fruita's Little Slice of Heaven, this is a recent addition to the city of Fruita.
This cupcake shop opened in May and has gained a lot of popularity within the community. Its unique and beautifully decorated cupcakes have gourmet flavors and are always jumbo sized. The warm atmosphere and inviting aesthetic allow for a perfect mix of comfort and a lively environment which is very important when enjoying a delicious cupcake. It's real life Food Network material. In fact, Buddy Valastro is attributed to be the owner's most influential figure when starting this business, and for good reason! These cupcakes and special ordered baked goods are right off of Cake Boss!
Sweet and Simple is a family owned and operated bakery. Connie and Joe Aguilar and their daughters Olivia and Miranda (and occasionally Connie's mother, Charlotte), run and stock the bakery every day. "Connie has been baking since she was a little girl but grew to love baking cupcakes more than any other sweet treat about 15 years ago," the owners stated. "She would bake for her close family and friends, but she dreamed of having her own storefront one day." Connie's persistence allowed her to open this cupcake shop, which has touched many people's lives.
One of the main reasons this shop is so distinctive is because of its interesting cupcake flavors. The shops' bakers experiment with new flavors to find the perfect fan favorites that everyone loves. Everyday there is a different selection of flavors: tres leches, turtle, lemon drop, coconut, the list goes on. The cupcakes are either filled or unfilled and there are always multiple flavors to choose from, with different options each day.
Another aspect that makes this shop special is the individual and handwritten scriptures on each of their cupcake boxes. The owner Connie states that it is a small token of her devotion to God. "I put God first in everything…and in knowing this, when opening the Cupcakery, I wanted everyone to have a chance to know Him."
Adie Skeen, Junior and frequent Cupcakery customer states, "What I love about the cupcake shop is that they are local and they always have a welcoming smile when I walk in. I also love the assortment of flavors they have. My favorite is the filled Lemon Blueberry! So good!"
This shop is a valuable addition to Fruita and there's no question that it will serve and delight the members of the community for years to come. Follow Sweet and Simple Cupcakery on Facebook at Sweet and Simple Cupcakery LLC, on Instagram @sweetandsimplecupcakery, and their website www.sweetandsimplecupcakery.com. Stop by the Cupcakery and until April 1 all students get a buy one get one free discount with a show of a school ID. There is no doubt that Fruita's Little Slice of Heaven will make your day, so be sure to show them some love!