The Other Side of the Desk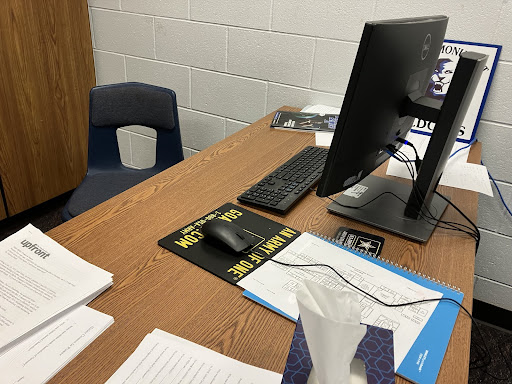 After graduation and years of hard work, many students say goodbye to the classroom, goodbye to the memories they have created, and goodbye to their teachers. Most see this as a victory, the end of a thirteen year struggle full of deadlines and equally tedious assignments. However, some see it as the beginning, and a chance to leave younger students with even better memories than they had.
While not everyone likes the idea of becoming a teacher since students are not always the biggest fans of the people who assign them work, some see the importance of teachers and work towards becoming one.
There has been a noticeable increase in the amount of student teachers lately, especially here at FMHS. When asking some FMHS student teachers why they have chosen to become teachers, a common answer points to leaving an impact on their students. "It was an incredible and impactful experience," said Bryan Carlson, a student teacher at Fruita Monument in the English Language Arts department. "I loved working with students and got a great deal of satisfaction watching my students succeed and overcome obstacles. I decided that teaching was where I belonged."
But of course the want to leave behind impactful memories extends further than English. Student teachers have also joined on to our school, teaching history, math and other subjects. A student teacher in the Math department, Caitlyn Nordstrom said her greatest motivation was making a difference. "Since I had such a great experience learning math, I wanted to try and make that impact in someone else."
Becoming a teacher might seem to many as just a job, but it extends beyond teaching students information in a classroom. "To me, being a teacher doesn't just mean teaching content. It means teaching kids how to be good people. Sure, I teach math, but I also hopefully teach a little bit of life" added Nordstrum in a survey regarding the subject.
Teachers have always been and remain a vital element to a school's environment. While few students move to the other side of the desk, those that do frequently leave a lasting impression on their students for years to come. The importance of having not just teachers of subjects and content, but of life is growing more important every day. In the end, they can leave their students with a better school experience than the one they had.