Mountain Berry Bowls: Fruita's Hidden Treasure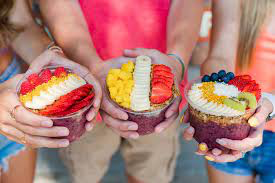 If you find yourself driving around Fruita's Circle Park, you will likely see a large gray truck with a large purple logo on the side. You may also notice a sign displaying their menu. When you see the combination of different toppings and fruits that you can put onto your own granola bowl, you are likely to be overwhelmed; after all, many of them seem strange. Hemp seeds? Goji Berries? Cocoa Chips? Just what is Bee Pollen, exactly?
However, if you try the multitude of different toppings that they offer, you will find that they are all amazing. On top of that, the different combinations offer a lot of room for those who want to change the contents of their berry bowls. For instance, if you want your berry bowl to be more protein-filled, you can opt for more hemp seeds or almond shavings.
If you are allergic to almonds, though, you can rest easy knowing that Mountain Berry Bowls have completely reduced the possibility of any cross contaminants getting into your bowl. This is practiced by having all tools used in the process of making the bowls washed before they are used again. On top of that, all spoons that are used to scoop other ingredients are only used for those ingredients, and nothing else. The base of the acai bowl is also very simple, only containing bananas, açaí base, strawberries and blueberries. This means that the bowls are gluten free and dairy free.
But how did this açaí bowl food truck find itself in Fruita? The owners of the Fruita and Grand Junction açaí food trucks are Angie and Trevor Wickershan. Fruita's food truck opened on March 19, 2021. Less than a year later, Angie and Trevor opened another food truck centered in Grand Junction,Colorado. You may see this truck mostly attending sporting events at Canyon View park and occasionally parked at the mall.
Mountain Berry Bowls, however, was not created in Fruita, it was actually conceptualized and created in 2015 in Whitefish, Montana. Since then, it has expanded from one state to three, including Idaho, Colorado and more cities in Montana including Missoula and Kalispell. They are also expecting to open another truck in Livingston, Montana later this spring.
With this food truck business so quickly expanding into different cities and states, it is a possibility that we might see this business turn into a chain of locations, all serving healthy, gluten free açaí bowls that brighten your day and boost your immune system by using all-natural ingredients.
When asking what people think of Mountain Berry Bowls, the response is often positive. Rose Bonino stated, "Yes, I have. It was really yummy. The service was amazing and it was fast, and you got lots of food for the money that you paid for it."
The expense of Mountain Berry Bowls has often come into question for lots of people, including Jackson Haftel, a senior at FMHS. "I love eating healthy stuff, but I feel like paying that much money for a bowl is way too much."
When Bonino was asked if she believed that Mountain Berry Bowls were too expensive, she replied, "not at all, not for what they are offering you."
All in all, Mountain Berry Bowls is a great food truck that offers a healthy start (or end) to your day. It's hard not to see the time and effort that they put in each and every bowl in order to make it look almost perfect. Next time you find yourself near Fruita's park circle, you should definitely try out Mountain Berry bowls.