2023 Senior Art Show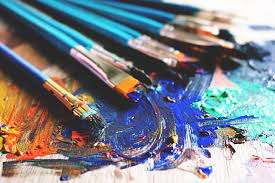 As the school year comes to an end and graduation becomes nearer, we find ourselves reflecting on the class of 2023 and celebrating their vast accomplishments and contributions to our school. One of the events where seniors are recognized for their hard work is the senior art show, which was held at the new FARM Fruita building and will stay up for around two weeks.
Formally a hardware store located just off the main circle of Fruita, FARM, which stands for Fruita Arts and Recreation Marketplace, aims to make studio space affordable to local artists. FARM serves as an inclusive hub for creative activities including but not limited to fine arts, healing arts and outdoor industry arts. Since its opening earlier this year, FARM has created an inclusive and innovative space for artists to create and showcase their work. This year FARM will host the senior art show for the first time.
All seniors who were enrolled in an art class at FMHS had an opportunity to submit up to three works to be displayed. With the help of the new FMHS National Art Honors society, the works were set up and displayed in the front room of FARM Fruita. The works created by the seniors are incredibly diverse in terms of medium. The body of works include ceramics, 3D works, mixed media, fibers, drawing and painting. Although works come from a variety of different classes here at Fruita monument, students from the AP Art and Design class provided most of the works featured in the show.
AP Art and Design student Bella Kinnick who notably won a silver Key for her piece "The Lavender Affair" at the national Scholastic Art & Writing awards and a Gold Key for her portfolio at state level, had three works included in the senior show. Her work explores lesbian relationships through different time periods, ultimately shedding light on the fact that homosexuality is not something new and should be celebrated. Some of the works that were featured include "Groovy Gals" a gouache painting that depicts 1970s disco lesbian couple, An Ode to Love a ancient greek style vase created using ink and a variety of dyes resourced from natural materials and "French Kiss" a 15th century acrylic painting that features two high class women in a lustful french setting.
"Farm Fruita is an incredible creative space," stated Bella Kinnick. "The show is a great opportunity for seniors to demonstrate their collection of works that they have made throughout their years at FMHS."
Josiah Hanly also had artwork featured in the show, Josiah Hanly is a highly accomplished artist, winning first in the black and white drawing categories as well as Judge's choice in the 2023 Altrusa Art show. Additionally he was also voted most artistic male in the senior superlative.
"My works set out to depict the moments before disaster," stated Hanly.
Some of his works featured in the senior art show include Bad News, a collage of devastating headlines, as well as Unpredictable, a watercolor and colored pencil works that portrays a man moments before falling off his horse.
"I'm excited to have my works displayed in a more public setting," said Hanly.
From the diverse and advanced body of work displayed by FHMS students to the new and exciting FARM Fruita, the senior art show is definitely something you will not want to miss.