Freedom to Create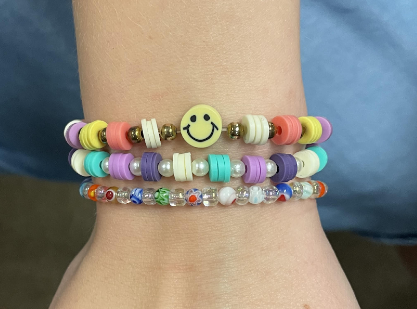 Crocheting, beading, bracelet making, painting and hand-making polymer clay jewelry are just a few examples of some hands-on hobbies that are becoming more popular in the younger generations. In an effort to understand why so many teens are drawn to these hobbies, I spoke to four teen creators at FMHS.
Jeremy Heer and Boston Adams are both juniors and make beaded necklaces and bracelets. Both started beading because they enjoyed the freedom they had to create whatever jewelry they wanted without having to find cheaper options in stores or compromise their style. "I like jewelry making because it's really cool to be able to just make whatever bracelet or necklace you want to wear without having to look in stores. You can just make exactly what you want," Heer explained. 
Creating your own jewelry not only provides more options for diverse jewelry choices, but also adds a deeper benefit as well. According to Adams, jewelry making  "is very relaxing and provides a unique creative outlet for me." 
Bella Bennett is also junior and enjoys making Pura Vida style bracelets.  "I like making bracelets because it's easy and it keeps me productive rather than just sitting on my phone.  A homemade piece of jewelry adds a sentimental touch that can't be obtained through any other means."  
While there are many observable benefits to crafting, there are also some hidden perks to having a creative skill. Junior Olivia Mosler has her own Etsy shop called LivsElements. She sells polymer clay earrings and digitally designs waterproof stickers. In the past, she has also designed and printed seasonal cards as well. For Mosler, her Etsy shop allows her to sell her uniquely designed and crafted works of art. "As an artist and young entrepreneur, having an Etsy shop provides many benefits and opportunities. One of which is making a little bit of money, but it also helps you to establish a business and it provides more avenues for making art." 
Starting an Etsy shop is a great way to develop a new skill while also having an opportunity to experiment and share your art. "Another thing I love about it is there are so many different things you can do with an Etsy shop and I'm always inspired to make something new." LivsElements is also on Instagram. 
Personally, I like to crochet. This hobby gives me a lot of freedom to create a variety of items while also being very forgiving. This is a perfect hobby for those wanting something without much commitment but also has a lot of options of things to make.  In the past I've made blankets, sweaters and stuffed animals. I love to crochet because it allows me to be creative while also making personal gifts for my friends and family. 
Every high schooler should consider a hands-on hobby because they encourage a creative environment that is otherwise nonexistent with the alternative hobbies available to teens  such as video games and electronic entertainment. With the modern stresses of our world, our society is in a constant need for creativity and with small business owners,  creators, or people who just do it for fun, we can help create that society that we deserve. 
Overall the benefits of having hands-on hobbies are very diverse. Ranging from doing it for relaxation to having the opportunity to learn how to run a small business, there is no doubt that our small businesses and crafters will help our world be filled with creativity.